If Google Chrome won't open and you think you've tried everything, then this is the time for you to try our 6 tips. We separate steps such as performing a repair, checking the antivirus and even risking a file restoration. Either way, it's worth trying each instruction so that this headache is cured.
1. Check your antivirus or firewall
In some cases, your antivirus may conflict with Google Chrome. It is worth mentioning that this does not necessarily happen because there is a virus in your system, but because the software believes that the program has a problem or a virus.
Try temporarily disabling your antivirus or setting Chrome as an exception so it can open normally.
Another option is to change antivirus or firewall. There are interesting alternatives to Windows, mac and Linux.
2. Check computer memory or unknown programs
Occasionally, other applications or programs may be consuming your computer's memory. As a result, Chrome ends up slowing down or there are chances that it stops opening altogether.
Search for extensions, apps and guides. The best solution in this case is to check which of these software are open and close them. This can help almost instantly.
3. Make sure Chrome isn't running in the background
As much as you are trying to open Chrome, there is a chance that it is already open, but hidden or corrupted. That way, when we try to open it, it just won't work. The ideal is to try to close it to open again and see if it starts. The process is this:
Necessary time: 3 minutes.
These steps are for Windows users.
Make the key combination

First, press the Ctrl + Alt + Del keys on the keyboard to open the command screen and click on "Task Manager";
For those using Apple's operating system, the way to try to fix when Google Chrome won't open is a little different:
On the keyboard, press ⌘ + Option + Esc;
In the search bar, look for "Google Chrome";
Once you find it, click on the icon and then on "Force Quit";
Finally, open the browser again.
4. Run Chrome as Administrator
It may be that the browser is not receiving permissions to change or create records on the PC, something that would prevent it from opening. Therefore, it is valid to try to run the app by releasing these authorizations. To do this on Windows, just follow these steps:
Click on the Chrome icon using the right mouse button;
Select the "Run as administrator" option.
5. Uninstall and reinstall Chrome
Still Google Chrome won't open? Maybe it's time to reinstall it. Of course, first of all, it will be necessary to uninstall the browser from your machine.
Open Windows 11 settings;
Click on "Applications";
Then select "Installed applications";
Find Chrome and click on the three dots on the right side;
Finally, click on "Uninstall" and follow the steps.
To install Chrome again, Click here and download the browser.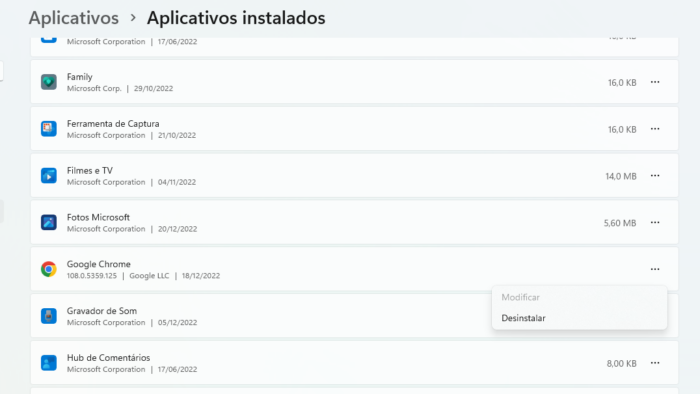 6. Download Chrome Canary
Another solution is to download Chrome Canary, a version of Chrome for developers. This option gets the news first, but it can be a little unstable and not always work 100%.
As it is another version of the browser, this alternative should work for the user, even if the original Chrome is corrupted. And don't be scared: it has the same yellow logo, unlike the regular Chrome.
If you want to try it, just access the download page of Chrome Canary and install it on your PC.
What is the Chrome Cleanup Tool?
The name of the cleaning tool is Cleanup. After trying the alternatives and finally being able to access the browser, it might be interesting to give the program an overview. That way, you can find and remove malware from your computer, which helps prevent this headache in the future.
Open Chrome;
Click on the three buttons in the upper right corner;
Open the settings;
Select "Reset and Fetch";
Then click on "Clean up computer";
Click on "Search";
If any malware is found, the program will prompt for its removal. So, click on "Remove".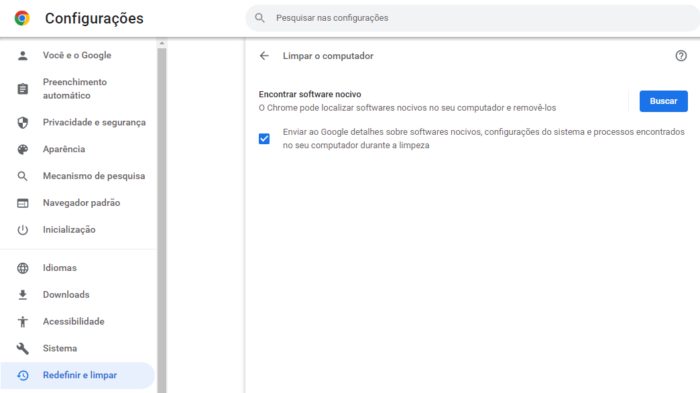 Google Chrome does not open on Android or iOS, now what?
The first thing to do is close other tabs and apps. Depending on the amount of memory on your device, this can get in the way when trying to use many programs simultaneously.
Restarting Chrome or the cell phone itself is also a valid attempt, but one that many people end up forgetting.
If after these attempts, nothing is resolved, then it may be time to uninstall and reinstall the browser. On Android, follow these steps:
Open your device settings;
Tap "Apps & Notifications"
Find the Chrome icon and tap on it;
Select the "Disable" option.
On iPhone or iPad, the path is simpler:
Touch the Chrome icon and hold it down;
In the top left corner of the icon, tap the X remove button;
Select the "Delete" option.
Anyway, if none of these steps work, you will need to enable error reporting. It's found in Google's settings and services options.
Is it possible to reset Google Chrome settings?
Yes. This way, the application will be practically reinstalled, returning to the factory settings. Reset Google Chrome is a valid option, but remember that everything will be erased, including passwords, bookmarks and history.
How do I update Google Chrome?
Open the options by clicking on the three dots in the upper right corner of the app. Then click on "Help" and then on "About Google Chrome". Finally, select "Update Google Chrome".
https://tecnoblog.net/responde/chrome-nao-abre-erro-resolver/