Apple began to allow on Tuesday (25) the use of advertisements within the App Store. They appear on the main tab of the digital store, as well as in "You might also like" suggestions. However, several reports of questionable advertisements such as betting and political broadcasting apps have popped up on social media. Apparently, the recommendations are not related to the content searched by the user.
It all started with an email sent by Apple the week of October 17th to program developers. In the message, the company stated that it was allowing the addition of advertisements in the App Store, especially in the "Today" tab.
This is the first time that the company has released this possibility, as previously only apps chosen by the editorial team appeared in the aforementioned space. However, it didn't take long for questions to arise from Apple's gadget owners.
The most common are about betting products. brands like Karamba Online Casino and Mobilebet Sportwetten showed up in more than one example on the net. In addition, the politically focused app pragerU was also suggested by the platform.
The changes also displease the developers, as many do not want to have their names or their brands related to content that could be poorly seen by the public. Apple did not respond to criticism found on pages such as Twitter and Reddit.
The main problem for consumers is not just the addition of questionable themed ads, but also the lack of relationship with the shows they are researching.
For example, one person pointed out that they received the recommendation of the conservative politics app pragerU because I like to use Apple Health, a product focused on exercises and well-being. Another individual pointed out the suggestion of the same content within the Apple Books.
Everything seems even stranger when someone is looking for a software to recover from a gambling addiction, but ends up coming across an advertisement that offers exactly this type of gambling.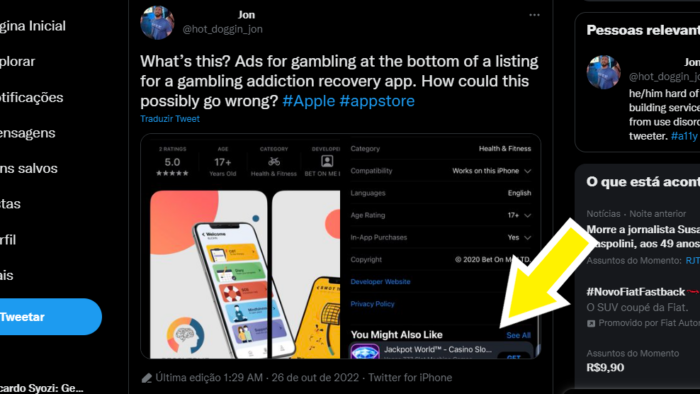 Apple is approving all ads
According to apple page for the indicated programs, every ad needs an App Store Connect approval before it can be submitted for Apple Search Adds consent.
This means that there is no "mistake" on the part of the company, as each software needs to go through at least two instances before reaching the consumer's "recommendations" page. Apparently, the brand thought very well about how to guarantee the investment of companies, but forgot about the interests of its customers.
The question remains whether Apple will better filter what it suggests for owners of gadgets like the iPhone and iPad.

https://tecnoblog.net/noticias/2022/10/26/apple-coloca-anuncios-questionaveis-na-app-store-e-incomoda-usuarios/