O Banco24Horas, known for its red ATMs, wants to increase its presence throughout Brazil. This Friday (25), the TecBan informed that it will expand the number of establishments in the Atmos and the network totem. The solutions offer alternatives for making withdrawals directly from checkouts at stores participating in the program.
The terminals began to be tested in 2020. In common, the two solutions facilitate the process of withdrawing and checking the balance. Thus, TecBan does not need to install an ATM everywhere, making the service simpler and safer.
Atmo and totem are alternatives to ATM
Despite the similar proposal, the two services work in a different way. Atmo is actually a compact, biometric-enabled Point of Service (POS) offering the following options: balance inquiry and card, cardless and digital withdrawal. In this case, the equipment is operated by the employee of the establishment.
The totem is a little more complete and is closer to the traditional ATM. In addition to the previously listed functions, the equipment also offers statement consultation and more than 90 services. The machine, however, is operated by the user, not the store employee.
The two solutions have something in common: the money, withdrawn from the establishment's till, is handed over to the user by a store employee. Meanwhile, the merchant receives the withdrawn amount directly into his account.
"For customers, the solution provides more practicality and convenience, as they can withdraw money at the same place where they shop", said TecBan in a press release. "For retailers and establishment owners, the withdrawal of physical cash by customers brings efficiency in the costs of managing and transporting cash, in addition to reducing the amount of cash stored."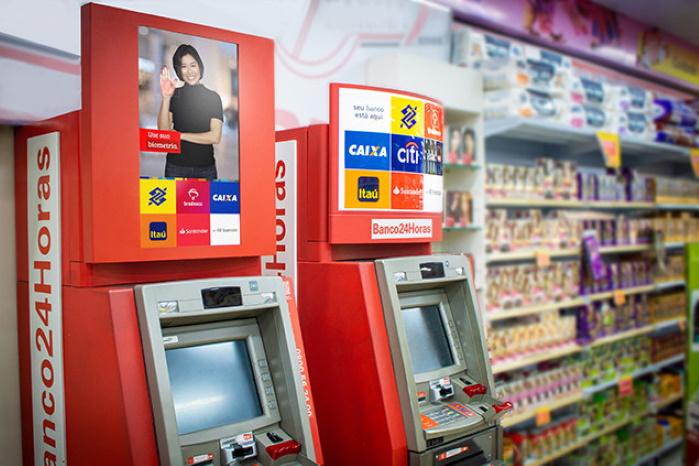 Banco24Horas wants to expand its solutions throughout Brazil
Of course, all this can be done through a traditional ATM. However, not all places can take advantage of this solution, such as inland cities with access only by boat or roads in precarious conditions. After all, a team needs to continually go to the terminals to feed them with new banknotes.
The Atmo and totem avoid this procedure. Only the money available in the cashiers of the establishments will be used for withdrawals. Here, Banco24Horas only mediates between the user and the store, to ensure security and enable the transaction between the two parties.
The solutions are not yet so widespread in Brazil. By the end of 2021, there were 38 devices installed across the country. Then, between January and October 2022, the network reached 91 deployments. But TecBan wants to go further.
"With the expansion of the solution for withdrawing in commerce, withdrawal transactions in commercial establishments should expand and we estimate to reach the mark of 370 devices in 2022 and for 2023, another 300" said the executive manager of Banco24Horas, Marcos Mazzi.
https://tecnoblog.net/noticias/2022/11/28/atmo-e-totem-do-banco24horas-te-deixam-sacar-dinheiro-dos-caixas-de-lojas/