Following the rhythm of the World Cup that caught many people this end of the year, the game for mobile devices free fire announced a partnership with the Brazilian national team and influencer Luva de Pedreiro. The campaign "Cheering with Frifas" starts on Thursday (24th) and runs until December 19th. It offers in-game rewards and events during the biggest soccer tournament on the planet.
To begin with, any user who logs in to the game during the campaign period will receive a skin of the Brazilian national team's yellow shirt. In addition, players will be able to redeem various rewards by participating in events that will occur whenever the Brazilian team enters the field:
There is Heart: It will be released two hours before departure. Thus, the player will earn two room cards when logging in, a weapon ticket surviving more than 15 minutes in any game mode and can also receive up to two trial cards for the Groza weapon if playing with a friend;
Interval Show: This game starts as soon as the first half of the Brazilian dispute ends. Lasting 65 minutes, the user will receive a trial of the Groza weapon, a weapon ticket when playing a ranked match and also another trial of the Groza weapon when scoring a Booyah!;
Post-Game Review: When the referee blows the final whistle, that part of the campaign will begin. Rewards include a Weapon Ticket for surviving up to 15 minutes in any game mode and up to 2 Trial Cards and Groza Weapon playing with a friend. This in-game event lasts until the end of the day.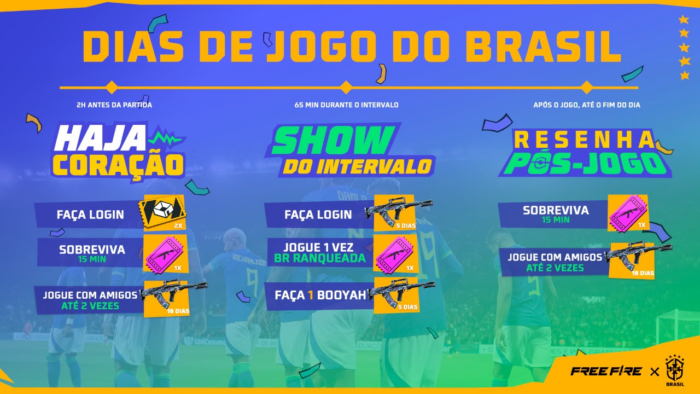 Prizes and more games
One of the main rewards that players of free fire will receive during "Torcendo com Frifas" is the Groza ticket. Each of these tickets is equivalent to a 5-day trial of the weapon of the same name.
Therefore, cheering for the victory of the Brazilian national team ends up becoming fundamental for users. That's because if there is a positive result, everyone will receive a 10-day Groza trial, two weapon tickets and 300 Gold.
In addition, those who participate in the events and get up to 100 days of Groza trial, will have the weapon permanently in their game vaults.
Finally, Garena, developer of the mobile title, announced that it will offer more than 10 thematic events focused on the sport of the Cup. They run until the 2nd of December. However, it is necessary to follow the social networks of the company and the game to stay on top of everything.
If you want to enjoy and improve your skills, it's worth checking out 6 tips for playing free fire that the Technoblog prepared for you.
https://tecnoblog.net/noticias/2022/11/24/free-fire-traz-evento-e-recompensas-em-parceria-com-a-selecao-brasileira/