Now it's easier for your child to ask for that mobile game they've had their eye on. This Tuesday (20), Google announced a new Google Play tool designed for family groups. Called "purchase request", it allows children under 13 to request approval for a purchase – be it a game or any other type of application – directly from the group manager.
Anyone who is an Android user and is part of a Google family group knows that, for some time now, Google Play has allowed the family manager to register a payment method shared with all members of that circle.
Children, including, can also take advantage of this resource, with the difference that their purchases are not automatically charged, needing to be approved or not by the person in charge of the family.
The new Google Play tool, however, was developed for family groups on the platform that do not have this family payment method activated. In these cases, even without registering a shared credit or debit card, a child registered in the group can ask the family manager to make a purchase.
Request does not need to be answered on time
In practice, the Google Play purchase request will work as follows: when interested in a game or application from the store, the child will see on their device the option to ask their parents to make the purchase. She can then send the request, which will instantly arrive on the parent's cell phone.
If the family manager is busy, the family manager does not have to respond to the request right away, but can check it later in a queue of approval requests.
If the adult decides to make the purchase, they can use any of their personal payment methods already registered, including Google Play gift cards as well.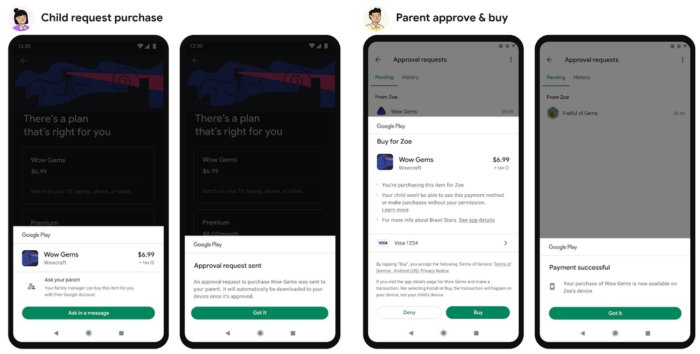 At the end of the process, if he so wishes, he can check the operation in his purchase history, since all transactions resulting from these requests are also recorded in the list.
Google Play has a specific tab for children
It is worth remembering that, since last year, the Brazilian version of Google Play has a specific tab for children on your platform. Composed of games and apps approved by teachers, the section is divided by age filters, with options for children up to five years old, from six to eight years old and from nine to twelve years old.
The idea is to make it easier for parents to choose which content is suitable or not for their child, offering healthy and educational options for games and drawings.
However, knowing the difficulties of this control over everything the child consumes on the cell phone, Google Play also allows Parents limit children's access to certain content🇧🇷
Through "parental controls", guardians can restrict certain downloads or store purchases based on the age rating of the game or application.
With information: Google and Android Police
https://tecnoblog.net/noticias/2022/12/21/google-play-deixara-criancas-pedirem-aos-pais-para-comprar-itens-no-android/