There are countless apps in the digital stores of mobile devices, but not all of them have the level of competence that users expect. With that in mind, Google Play has announced that it will bring more visibility to the highest quality apps in its digital store, while the lowest tier apps will be excluded from recommendations. As a result, the company hopes to increase developers' efforts to deliver better products.
The announcement was made in a Android developers blog post on Wednesday (2). The words released highlighted the search for the high level on Google Play, in addition to presenting the new ways of defining the platform's quality.
Thus, two priority measures were released, which together will define the "core vitals":
THE "User-perceived crash rate" determines the percentage of active users who have noticed an app crash. It cannot exceed 1.09% on all devices and 8% per model.
Already the "User-perceived ANR rate" is defined as the percentage of active users who have experienced at least one ANR (app not responding). The requirement is not to exceed 0.47% for all devices and 8% for each cell phone model.
If the app goes above the threshold numbers of "core vitals", Google Play may decrease the visibility of the product to the users of the platform. Additionally, the company will add a warning that the title may not work properly on the person's mobile device.
According to Google, the changes will take effect from November 30, 2022.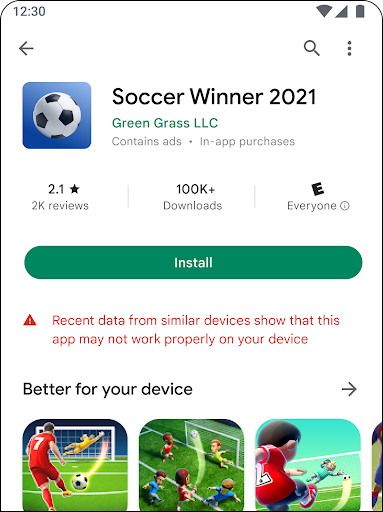 Platform will offer tools to maintain quality
In the same post, Google stated that it is bringing in features to help developers keep their titles high. The idea is to facilitate monitoring and actions when necessary.
Key metrics will be easily visible on the Android Play Console platform, but will also be present on the Play Developer Reporting API.
The development team will have access to the numbers daily to focus their efforts on fixing bugs as soon as they are discovered. Furthermore, Android vitals (service for developers) will warn you when the numbers are close to exceeding the required rates. It will also communicate on which devices and how many users are affected.
Finally, Google suggests that the developer prioritize the most common problems, as they are the ones that most affect the percentage of the "User-perceived crash rate" and "User-perceived ANR rate".
In my opinion, this path is welcome, since it is not uncommon to find applications that do not work well on the platform. Apple, for example, has been doing something similar since 2017, demanding a lot of competence from what it offers in its digital store.
With information: TechCrunch.
https://tecnoblog.net/noticias/2022/11/03/google-play-vai-exigir-mais-qualidade-para-sugerir-apps-no-celular-android/