The success of GTA V inspired the creation of GTA RP servers, an online mod in which players create characters and "live" their respective stories in an organized virtual community, choosing professions, interacting with people and even having children. Remember Second Life? The proposal is the same: you have a virtual life, but playing your characters is the ultimate rule! After all, "RP" comes from "roleplay", which means "to play", "to act". See below how to play GTA RP.
How to play GTA RP
Attention: because they are made with mod, without any official support from Rockstar or consoles, GTA RP servers only run on PCs.
Download FiveM on official site from the program

The most popular RP servers use the mod FiveMa program that allows the creation of servers in a more simplified way — but that still requires technical programming knowledge;

Install FiveM

Click on the downloaded application and it will start the installation;

GTA V check

O FiveM will ask you to select the GTA V executable file. Go to the folder and select GTA V. This step is mandatory for FiveM to confirm that you own the game and will run the servers;

Rockstar Files and Launcher Update

Once the executable file is chosen, FiveM will ask for authorization to update your files. Accept the update, it will download the mod files that allow the use of GTA V as a base for RP servers.

Rockstar Games Launcher

During verification, the Rockstar Games launcher may display an error message claiming that you do not have admin rights. If this happens, you will have to open the launcher and wait for FiveM to complete the verification — this might take a while;

Login to FiveM

After verification is completed, FiveM will open and ask you to create your account. If you created the account on the site, before installation, you can log in by checking your browser;

search a server

Login done, it's time to get a server. In the upper left corner of the screen is "Play". Clicking the button will take you to the server search screen. FiveM will show a list of active servers. However, some of the more popular ones may require registration.
GTA RP servers
If you were interested in the idea of ​​playing some GTA RP, there are several Brazilian servers for you to start your story. The servers are free, but players can transact in-game. See some of the most popular GTA RP (listed in alphabetical order)
Uptown
Owned by the esports organization Loud, the server has already had promotional actions for iFood, Brahma and Anitta's participation. Enrollment is done by completing the form and interview. The server announces the opening of registration on its social networks and Discord.
City of Angels
Created by influencer FunBABE, Cidade dos Anjos has its registrations open.
City R10
Launched in June by player Ronaldinho Gaúcho, registration is open. Volkswagen is a server partner and the brand's cars, including the manufacturer Audi, are part of the R10 City universe.
Complex
Like the GTA RP Cidade Alta, the Complex is part of a sports organization — in this case, Fluxo. MC Poze do Rodo has already done a show on the server. Enrollment is done by filling in the form. The server announces the opening of registration on its social networks and Discord.
NoPixel
NoPixel started in the United States, but it has a dedicated server for South America — as well as RPs for Spain and India. Your registration is also done through a form.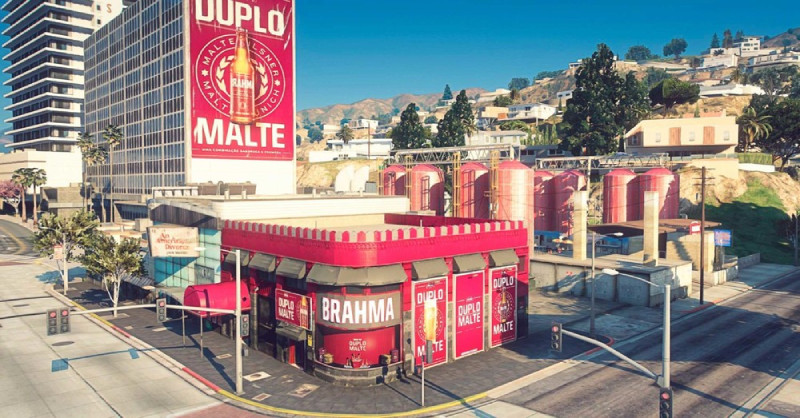 What are the main rules of RP servers
As much as each server has a different moderation, or is hosted in another country, they all have several rules in common. Violating a server's rules can lead to a player being banned.
Never leave the roleplay: inside the game you need to simulate at all times that you are living your character's story. Respecting roleplay is the maximum rule on servers. Under no circumstances should you go out of character. Did a technical problem happen? Let the moderators know in the communication channels, which is usually the server's discord
No "metagaming": the term used for using outside information within RP. Does your friend already participate in a server? When entering the same RP, you need to know each other like it's the first time. Watching a stream to find out where a player is is also metagaming.
Love of life: don't do anything in the game that you wouldn't do in real life. Don't react to robberies, don't run over someone, don't take care of other people's lives. Even if you "come back to life" after "dying" in RP, that's not an authorization to play putting your character in risky situations — don't jump out of a plane, for example. The same goes for killing players outside the accepted conditions, such as in faction wars or disputes between police and criminals.
Respect for others: RP servers are communities, we can even call it a virtual society. And just like in real world society, respect for others is fundamental. Servers do not accept discrimination of any kind. The Complex even cites Art.3, item IV in its rules.
On the most popular servers, which rely on sponsor actions, there are also rules that prohibit behavior harmful to partner companies — such as carrying out robberies with vehicles owned by a sponsor.
You can infer one thing from the rule patterns: a GTA RP server is the closest we have to metaverse — and you don't need a VR headset to play. Just a computer with settings to run GTA V.
https://tecnoblog.net/responde/como-jogar-gta-rp-no-pc/