Those who are used to using Instagram Stories to write small text messages will now have a specific tool on the social network for this. Tested by a limited number of people since June, the feature now appears to be coming to more accounts, and allows the user to write a note, visible for 24 hours to selected followers, who can reply to it if they wish.
Called "Notes", the feature is located in the Instagram conversations tab and appears between private messages and the search bar. When opening it and tapping on the option "Write a note", the user is redirected to a new screen, where he can write a text of up to 60 characters, including spaces and emojis, on the subject he wants.
Soon after, he can choose who he wants to share that note with, an option that so far is restricted to the followers that the user follows back or the profiles that are on his "Close Friends" list.
It is worth noting that when sharing, users are not notified about the message sent. The note will appear for them in the "Notes" section, where they can also reply to the text in question or even make their own post.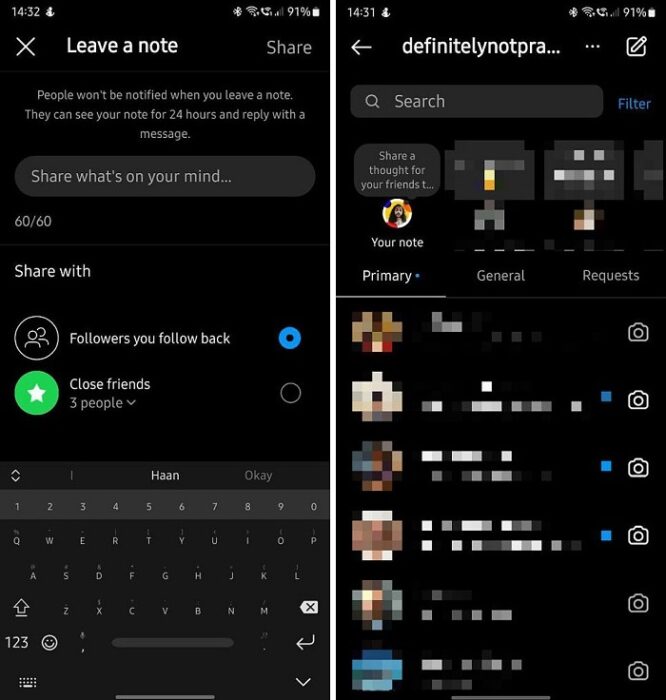 As with Stories, the published note is only available for 24 hours on the platform, automatically disappearing shortly thereafter. In addition, for now, Instagram only allows one message to be posted at a time, and it is necessary to replace the published content if the user wants to post another message in less than 24 hours.
Platform seeks to connect users
Instagram seems to be looking more closely at the relationship between its users. Seeking to connect people on its social network, making them stay longer in the application, the service has been betting on several resources, which go beyond sharing photos and videos.
In addition to the notes, which work almost like a "wall", in which users can share thoughts and messages with followers, indications show that the platform should also allow the creating public chat rooms in the app.
Discovered by a user of the social network, the novelty will serve to group people with common interests, allowing them to interact in groups moderated by their own administrators and that comply with Instagram guidelines.
With information: XDA
https://tecnoblog.net/noticias/2022/09/28/instagram-permite-que-usuarios-fixem-recado-por-24-horas-para-seguidores/