The wait is over. O Google presented this Thursday (6) the Pixel Watch, its first smart watch. It doesn't come as a surprise — the smartwatch was confirmed months ago during Google I/O — but now we finally know what the company was imagining all along. Rounded design, AMOLED screen and 32GB of storage are among the attributes.
The Pixel Watch supports several Google apps, of course, such as Assistant, Home and Wallet — that is, you can use the smartwatch for proximity payments.
In addition, it bets on a lot of memory to run the various features of the device. In design, fluid and round lines to differentiate from the square appearance of the competition.
Colorful design and own bracelets
The Pixel Watch's face is round — a contrast to the square lines on the Apple Watch. It has a rotating crown on the right and a button just above, which serves to activate recently opened applications.
The watch has bracelets with a magnetic snap that is complemented with a circular movement. This makes fixing easier and safer. It's a mechanism inspired by the way lenses are attached to cameras.
There are 20 bracelet options, including models made from fabric, leather and, soon, metal. The housing, made of stainless steel, has three color options: black, silver and gold.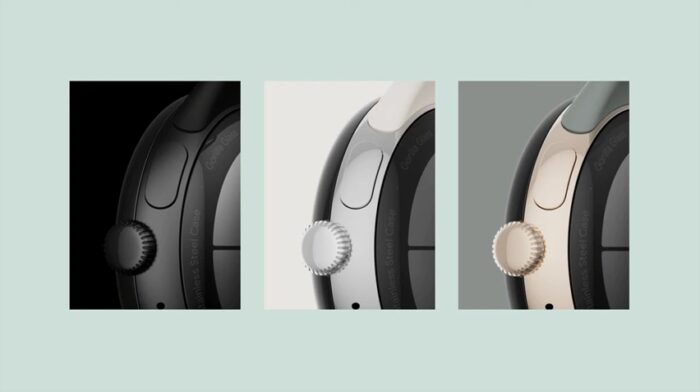 Other features include a diameter of 41 mm, a thickness of 12.3 mm and a weight of 36 g. In addition, the smartwatch has a water resistance of 5 ATM, that is, it can withstand a depth of up to 50 meters.
The screen is an AMOLED panel with 320 ppi, brightness of up to 1,000 nits and Gorilla Glass 5 technology that guarantees some protection against scratches. Another interesting detail is that the glass has a curved surface, which covers part of the sides, which gives the watch an air of sophistication.
Old processor but lots of memory
It is also tightly integrated with the Fitbit ecosystem, acquired by Google in 2019. The watch has an oxygen saturation and heart rate sensor.
With the hardware it has, the Pixel Watch offers continuous heart rate monitoring, sleep tracking and statistics for fitness goals, for example.
The processor is the Samsung Exynos 9110, made with 10 nm lithography. The Pixel Watch also has 32GB of internal storage and 2GB of RAM, surpassing the 1.5GB of Samsung's Galaxy Watch 4.
Google says the watch has enough battery for a day on a single charge. The component comes with a capacity of 294 mAh and USB-C charging. With 30 minutes of power, it is possible to make the charge reach about 50%.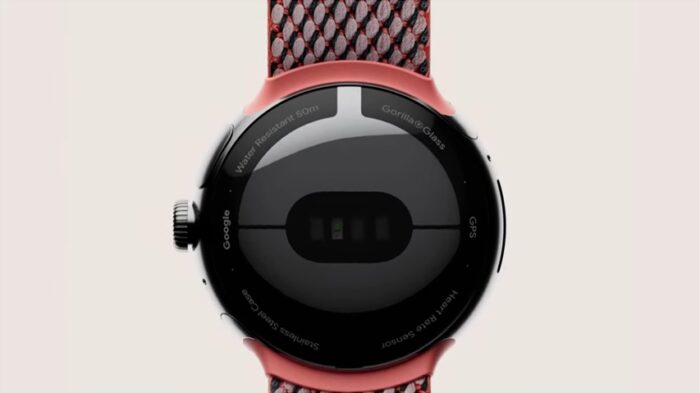 Connectivity includes 4G, Bluetooth 5.0, Wi-Fi 802.11n, NFC and GPS. There is no 5G compatibility.
Google Wear OS 3.5
Needless to say, the Pixel Watch runs Google's Wear OS 3, right? More precisely, Wear OS 3.5.
The watch, however, brings some differences from what we know of the system in the Galaxy Watch line, in aspects such as gesture navigation.
In this release, there are 19 dials available. All can be customized — you can change the color combination of the interface, for example. Own photos can also be set as watch faces thanks to the integration with Google Photos.
Noting, there is also integration with Google Assistant and Google Home, including for voice commands that can be used, for example, to turn off the lights.
By 2023, the watch will be able to detect falls and, if the wearer does not respond, automatically trigger help.
The smartwatch is compatible with Pixel smartphones — including the newly launched line Google Pixel 7 — as well as with phones running Android 8 or higher.
price and availability
In the United States, the Pixel Watch is already on pre-order. The official prices are these:
Pixel Watch with Wi-Fi: $349.99
Pixel Watch with Wi-Fi and LTE: $399.99
Purchasing the watch entitles you to three free months of YouTube Music Premium and six months of Fitbit Premium.
As for Brazil, no forecast. Google officially brings few products to the country, and we don't expect the Pixel Watch to be released here.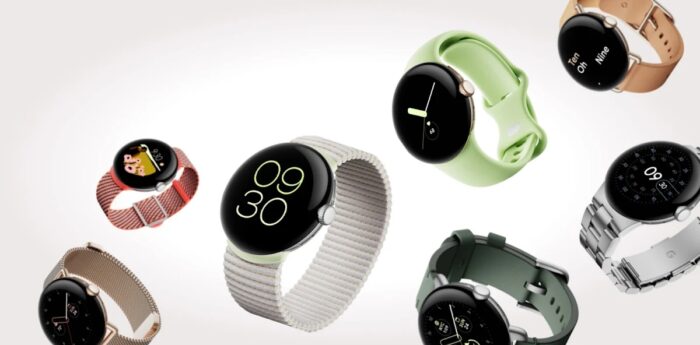 Google Pixel Watch — datasheet
Screen: AMOLED, 320 ppi, DCI-P3, 1000 nits, Gorilla Glass 5
Processor: Samsung Exynos 9110
RAM: 2 GB
Storage: 32 GB of eMMC
Drums: 294 mAh, 80 minutes of power for full recharge
connectivity: 4G, Bluetooth 5.0, Wi-Fi 802.11n, NFC, GPS, Glonass, BeiDou, Galileo:
sensors: gyroscope, accelerometer, brightness, compass, heartbeat, blood oxygen
Operational system: Google WearOS 3.5 integrated with Fitbit
Body: 80% recycled stainless steel, diameter 41 mm, thickness 12.3 mm, weight 36 g, colors black, silver or gold
https://tecnoblog.net/noticias/2022/10/06/pixel-watch-finalmente-mostra-as-ideias-do-google-para-smartwatches/