Gift cards are not a novelty in Brazil, they are already widely used, especially on commemorative dates. The company Blackhawk Network Brasil, however, launched a new gift card format in the country, in which, in addition to the user being able to spend it on different platforms, their credits do not need to be used all at once.
According to the company, the card was initially launched in a digital version and can be purchased in e-commerces, such as Carrefour and Americanas, and marketplaces of digital banks, such as Banco do Brasil.
Called "O Melhor Presente para", its price options start at R$89.90 and go up to R$200, and are currently available in two versions: Mundo Gamer and Copa do Mundo.
Each of the modalities serves a list of different brands (see information below), with credits that can be used in games, benefit clubs and platforms related to each of the themes.
For those curious, the benefit works as follows: after purchasing one of the options, the user receives a code by email. In possession of this combination, he must enter the website indicated by the company and choose the brands for which he will exchange the gift card, directing how much credit he will deposit in each one.
It is worth mentioning that when doing this, the user does not need to use the credits all at once, being able to change them according to his needs. However, when crediting part of the value to a brand, he automatically generates and receives a virtual card from the company in his email, which he can then use on the service or platform in question.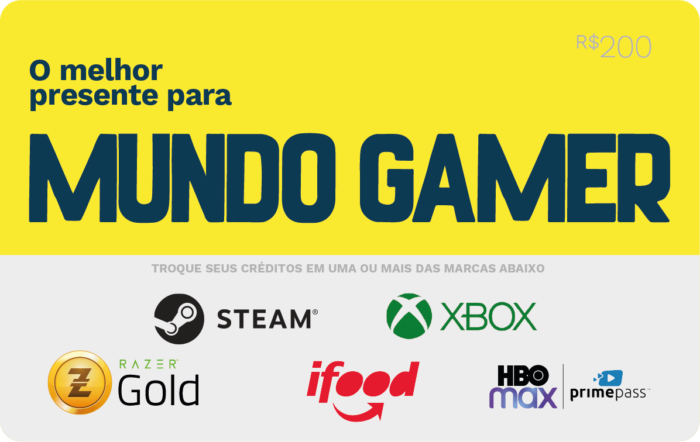 Gamer World and World Cup are now available
The already available Blackhawk Network Brasil multi-brand card models are aimed at two different audiences.
The first one focuses on the community passionate about electronic games, an audience already used to this type of benefit. In this package, the credits acquired by the user can be spent on Razer Gold, Steam and Xbox platforms, in addition to services such as Primepass (which includes HBO Max) and iFood.
The second model, launched especially for the World Cup, established partnerships with companies focused on the world of sports, streaming and delivery. Anyone who acquires a card of this modality can use their credits on Globoplay, Decathlon, Fifa 23, TNT Sports and also on iFood.
According to data from the Blackhawk Network itself, in the US, the multi-brand gift card market grew 31% in the last year.
In addition, other markets such as Australia, Europe and Canada have even greater revenues in the sector, with an expectation that by the end of this year, 2 billion dollars will be transacted in these countries.
Aiming at this expansion here as well, the company announced that its card will also gain a physical version, expected to arrive in Brazil next year.
https://tecnoblog.net/noticias/2022/12/05/esse-gift-card-permite-escolher-para-qual-plataforma-enviar-seu-dinheiro/