The new generation of the Moto G family is about to arrive in Brazil. After the Moto G23, the Anatel approved the Moto G53 on Thursday (5), releasing it for sale in stores across the country. It is expected that the mobile Motorola has a triple 50 megapixel camera, 5,000 mAh battery and comes out of the box with Android 13.
According to agency documents accessed by the Technoblogthe smartphone XT2335-1 is already homologated in Brazil. The product was approved at the request of Motorola, which also appears as the manufacturer in the registration.
The model also appeared in the TDRA system, an agency equivalent to Anatel in the United Arab Emirates. In the files, the XT2335-2 smartphone was identified with the following commercial name: "Moto G53 5G".
In addition to TDRA, the MySmartPrice reported that the smartphone also appeared in the FCC and EEC systems in two variants: XT2335-1 and XT2335-2.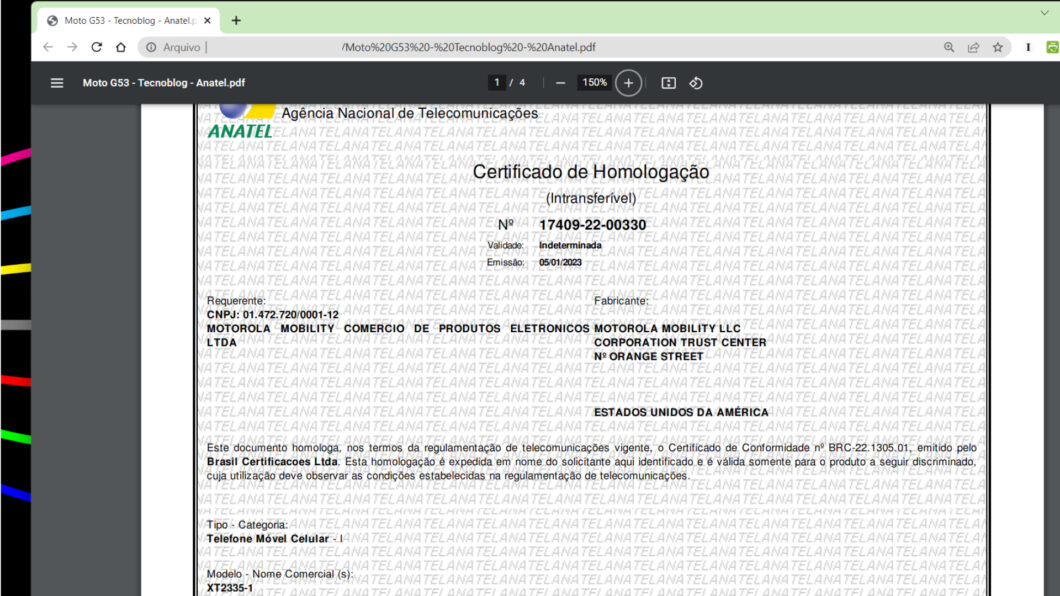 What to expect from the Moto G53?
The Moto G53 is not a strange name. After all, in December, Motorola introduced the cell phone in China with a dual 50-megapixel camera and a 120 Hz screen.
But global editing should be a little different.
This is what a publication made by the collaborator of the 91MobilesYogesh Brar, in December, by twitter.
According to the tweet, the launch will have a triple camera of 50 megapixels. The front camera would be 16 megapixels.
The technical sheet should also bring some differences. Led by the Snapdragon 4 Gen 1, the specs list would also feature 6GB memory and 128GB storage.
The Chinese model, in turn, has 4 GB or 8 GB RAM.
The battery would remain at 5,000 mAh, following the average of other intermediate cell phones on the market.
The 6.6-inch screen, in turn, should bring 120Hz refresh rate. But there is another upgrade in sight: the LCD panel with HD+ resolution can make room for the OLED display with Full HD+ definition.
Despite the bets and approval by Anatel, there is still no forecast for the launch of the Moto G53 in Brazil.

https://tecnoblog.net/noticias/2023/01/09/com-camera-tripla-e-bateria-grande-moto-g53-e-homologado-pela-anatel/